GINGERBREAD BODY BUTTER
[[ totalString ]]
[[ compareTotalString ]]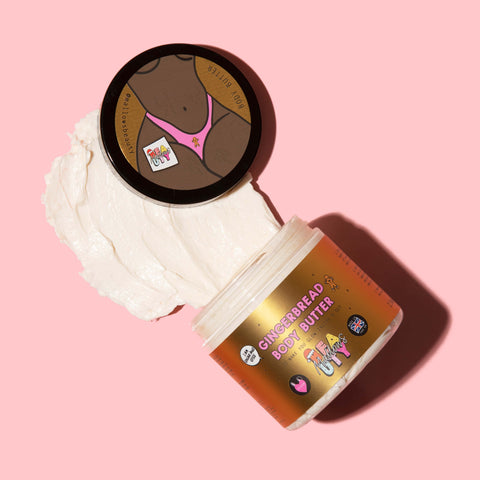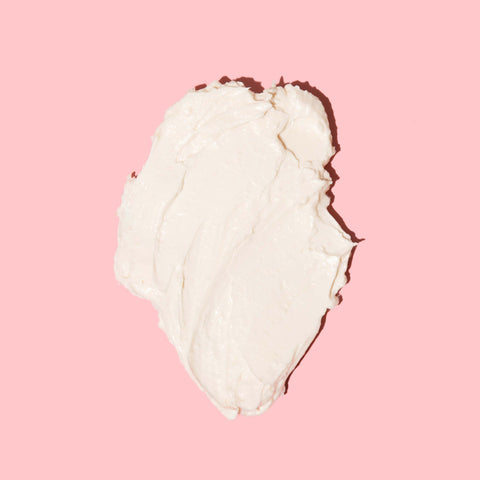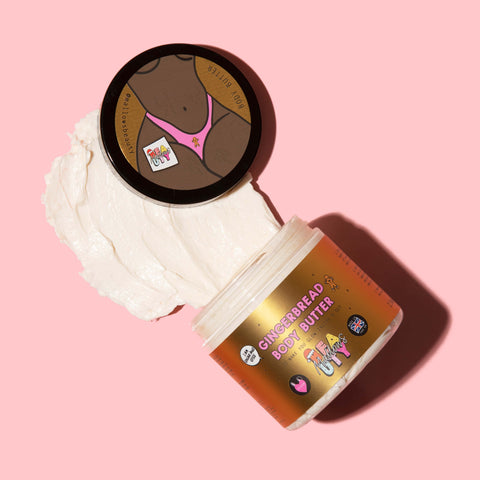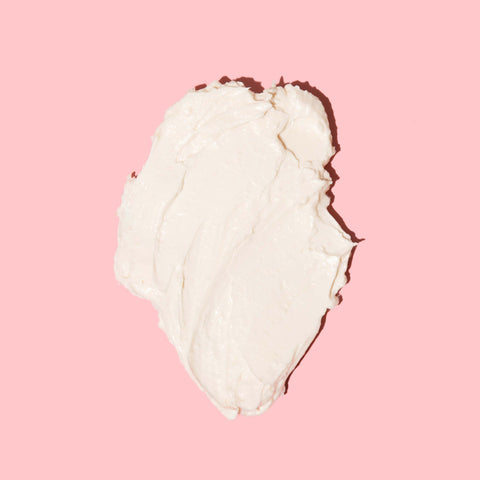 GINGERBREAD BODY BUTTER
[[ totalString ]]
[[ compareTotalString ]]
It's the most wonderful body butter of the year! Cover your beautiful bod in me, a super sweet and spicy Gingerbread Body Butter! I am just like the perfect cup of cocoa, warm and cosy... made with Sunflower Seed and Coconut Oil. Cocoa and Shea Butter aaand Vitamin E to help effortlessly smooth and hydrate your skin from head to toe! I help protect your skin barrier and lock in moisture so your skin will be super soft and healthy! And I never ever leave a messy, sticky or greasy after-feel...I absorb in a flash... smother me on to get in a festive mood!
While you're massaging me into your gorgeous skin, take this time to remind yourself of how much you've achieved this year! You deserve to let your hair down and have a good time... treat yourself to a Christmas present from you to you! You deserve it babe!
After using my Gingerbread Scrub, grab a handful of my Gingerbread Body Butter and rub all over your beautiful bod. Give those areas which are really dry some extra love.
Whilst getting your moisture on, appreciate your body, and all your beautiful imperfections. Stretch marks. scars, cellulite and spots are all totally normal babe...and make you, YOU!
Now you're silky soft & glowing, go take over the world.
Ingredients: Aqua, Butyrospermum Parkii (Shea) Butter, Helianthus Annus (Sunflower) Seed Oil. Glyceryl Stearate, Theobroma Cacao (Cocoa) Seed Butter, Tocopherol (Vitamin E). Parfum (Gingerbread). Cetearyl Alcool, Copernicia Cerifera (Carnauba) Wax, Coco Glucoside, Benzyl Benzoate, (Vanilla butter): Helianthus Annuus Seed Oil & Hydrogenated Vegetable Oil & Vanilla Planifolia Fruit Oil. Phenoxyethanol, Benzoic Acid, Xanthan Gum, Dehydroacetic Acid. Citral. Coumarin, Eugenol. Geraniol. Limonene, Linalool