TROPICAL FOAM CLEANSER
[[ totalString ]]
[[ compareTotalString ]]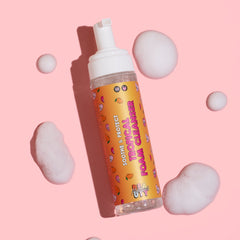 TROPICAL FOAM CLEANSER
[[ totalString ]]
[[ compareTotalString ]]
I am the Tropical Foaming Cleanser. Use me to remove makeup. dirt and oil build up from your busy life. I will leave your skin clean and clear, feeling softer than a babies bum and glowing brighter than a vampire in daylight. Not only do I smell divine, I am super gentle and one of a kind. Welcome to the Mallows family gorge, you are about to become addicted!
Splash your face with water.
Use a pump of my Foam Cleanser & rub all over your beautiful face.
Wash me off... you can use a flannel or muslin to help.
It is so easy to think that flawless skin is the norm when we spend our lives on social media and can't tell when people are using filters or facetune to make their skin look perfect . Perfect skin doesn't exist. Pores. spots, scars, hair, blemishes are the actual norm. So remember you are beautiful just the way you are.
INGREDIENTS: Aqua, Glycerin, Polysorbate 20, Caprylyl/Capryl Glucoside, Cocamidopropyl Betaine, Phenoxyethanol, Parfum, Citric Acid, Ethylhexylglycerin, Sodium Gluconate, Avena Sativa (Oat) Kernel Extract, Aloe Barbadensis Leaf Extract, Limonene, Hexyl Cinnamal, Linalool, Coumarin, Amyl Cinnamal